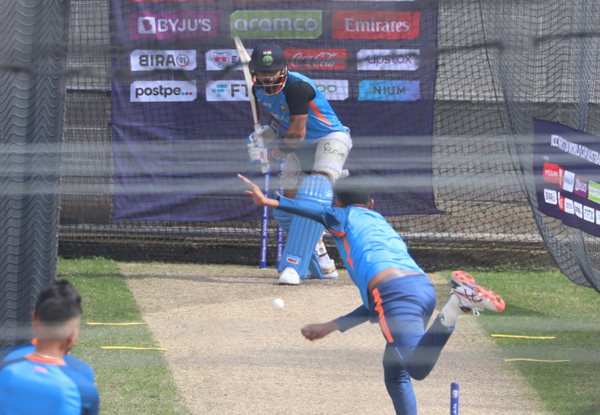 Xtra Time Web Desk: Star Indian batter Virat Kohli looks to be the man on a mission. Despite being in form, Virat is putting that extra effort during practice. It was evident during the optional training session of the Indian team on Tuesday. Kohli was the first to enter the SCG nets after warm up session. He went straight to one of the three nets and started taking throwdowns from video analyst Hari Prasad. After that he went into the second nets to take further throwdowns from Raghavendra, Dayanand and Nuwan. Kohli took throwdowns for almost 20 minutes before walking into the third nets where he faced Mohammad Siraj, Harshal Patel, Yuzvendra Chahal and Ravichandran Ashwin.
It was an optional practice session for the Indian team with the likes of Hardik Pandya, Suryakumar Yadav, Arshdeep Singh, Bhuvneshwar Kumar and Mohammad Shami given rest.
Indian captain Rohit Sharma and KL Rahul batted for a long time at the nets. Both Rohit and Rahul took throwdowns before facing Harshal, Siraj, Chahal and Ashwin. Dinesh Karthik too batted for a long time at the nets along with Rishabh Pant and Deepak Hooda.
The practice session was an intense one as both bowlers and batters worked hard to take their skills to the highest level before their second T20 World Cup match.
India will take on the Netherlands next, with the match scheduled for October 27 at the Sydney Cricket Ground. While Netherlands is not expected to pose much of a threat, India will still be wary of the same considering how the Dutch took the game close against Bangladesh.