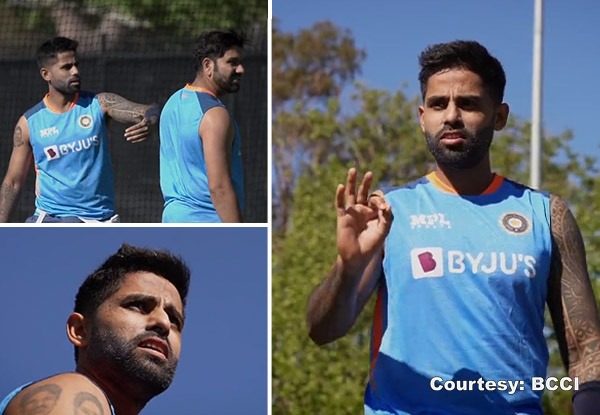 Xtra Time Web Desk: The world's top T20 batter at the moment, SuryaKumar Yadav is gearing up for the upcoming T20 World Cup 2022. SKY had his first hit at the nets on Sunday and is quite excited to be playing in Australia. Surya's form will be paramount to Team India's success in the mega event.
BCCI on Sunday shared a small video of Suryakumar's first training session at the WACA with a caption, "#TeamIndia batter Suryakumar had his first nets session in Australia. Hear in to what he has to say on the conditions Down Under and preparations going into the T20 World Cup"
"Yeah, I was really looking forward to come here and attend the first practice session, go on the ground and have a feel how its like here. The first nets session was also really amazing. Just wanted to see how the pace and bounce of the wicket is. Obviously starting a little slow," said Suryakumar in the video.
SKY did not hide his excitement of playing in Australian conditions in a marquee event like the T20 World Cup.
"There was a few butterflies and lot of excitement as well. But at the same time you need to get used to these conditions quickly. Peaking at the right time is key. There is definitely excitement within but I also need to follow the routine and process.," said Suryakumar.
Talking about his mindset and what he focusses up while practice sessions, Suryakumar said, "During practice what I try to analyse is what is the pace and bounce of the wickets, the dimensions of the ground. I heard people saying the grounds here are quite big. So it is very important to set your gameplan, how you will score runs here. All these things are very important."
There is always a nice cool breeze flowing (more popularly known as freemantle doctor) across the WACA ground.
"There is a slight cool breeze here but I think it's same like India. The weather during the day-time if very beautiful. Good conditions and I am really looking forward to it," signed off SKY.