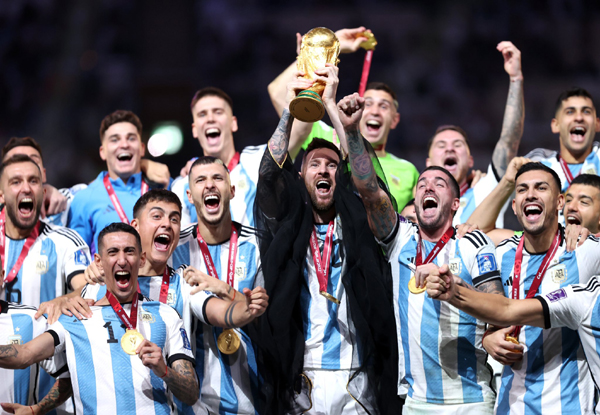 Xtra Time Web Desk: One month since an unforgettable FIFA World Cup Final, the governing body of world football takes a deep dive into the best ever World Cup and the sheer scale of organising the biggest single sporting event on the planet. On 18 December 2022, 88,966 spectators packed into Lusail Stadium and close to 1.5 billion around the world watched a pulsating Final between Argentina and France.
The marquee event saw 172 goals scored, with 5 billion people engaged, a host of new records were set. The Final achieved a global reach of close to 1.5 billion viewers, with the opening match capturing over 550 million. Almost 6 billion engagements on social media, with 262 billion cumulative reaches across all platforms
The FIFA World Cup Qatar 2022 saw record number of spectators inside the stadiums. It saw a growth of 3.4 million spectators – up from 3 million in 2018 – who were treated to a historic tournament. 172 goals ensured that Qatar 2022 became the highest scoring FIFA World Cup in history, eclipsing the previous highest total of 171, in both 1998 and 2014.
Three matches at Lusail Stadium, including the Final, saw the highest attendance for a match registered at a FIFA World Cup since USA 1994 when Brazil played Italy in front of 94,194 at the Rose Bowl in Pasadena.
FIFA World Cup 2023 witnessed Cristiano Ronaldo became the first man to score at five FIFA World Cups (2006, 2010, 2014, 2018 and 2022) while Lionel Messi became the first player to score in four successive knockout stage matches in a FIFA World Cup since the round of 16 was introduced into the modern era, at Mexico '86. Messi also passed another landmark when he made his 26th FIFA World Cup appearance in the final, overtaking the record previously held by Lothar Matthäus.
The fastest goal came after just 68 seconds when Canada's Alphonso Davies, 22, scored against Croatia. At just 18 years and 110 days, Spain's Gavi became the youngest goal scorer at a World Cup since Pelé in 1958, with a stunning strike during the 7-0 win against Costa Rica.
Stéphanie Frappart became the first woman in FIFA World Cup history to referee a finals match. Together with assistants Neuza Back and Karen Diaz, she composed the first-ever female trio to officiate in the tournament.
The eight group stage winners included teams from four different confederations for only the third time, and the first in 20 years (1986, 2002, 2022).