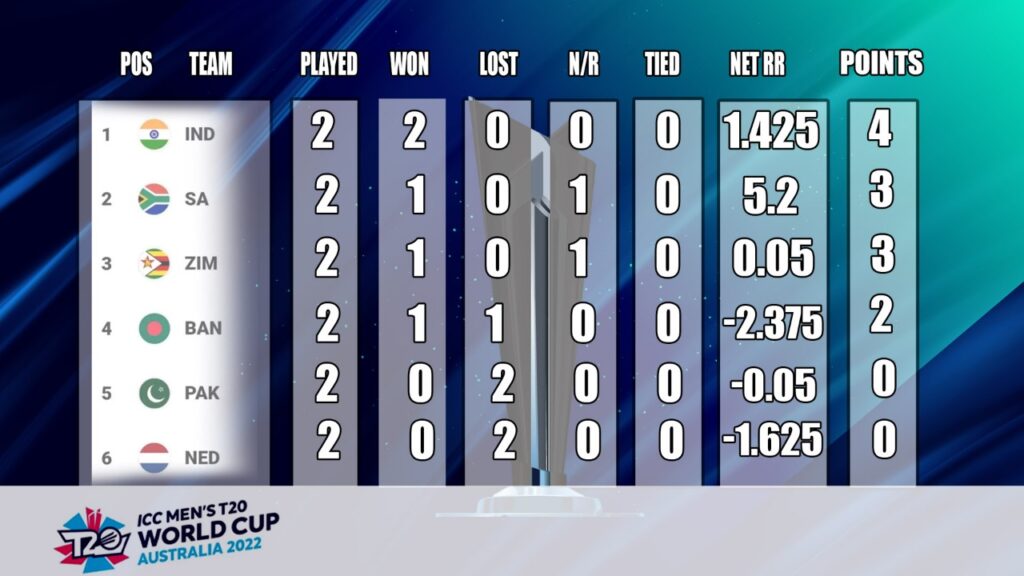 Xtra Time Web Desk: The ongoing T20 World Cup have already seen a few upsets with Ireland winning against England. But the biggest upset so far has to be Zimbabwe winning the last ball thriller against Pakistan at Optus Stadium in Perth on Thursday.
After two rounds of matches, Rohit Sharma and his boys are currently followed by South Africa. Zimbabwe with their stunning win against Pakistan is also in the reckoning to qualify for semis. Babar Azam and his team are staring at getting knocked out probably.
The Men in Blue are definitely looking good to make it to the last four stages. Rohit and co also boasts of a healthy net run rate of +1.425, and it will take some turnaround for India to be prevented from a top-two spot.
The rain-interrupted no result between South Africa and Zimbabwe has both teams just a point behind India with three games to play, and that could make all the difference come the final standings.
South Africa have the edge over Zimbabwe thanks to a phenomenal Net RR of +5.200, created by the crushing 104-run win over Bangladesh on Thursday. That in itself is effectively worth an extra point at this stage.
Despite losing both their opening matches Pakistan can still make it to the last four stages mathematically. The first task for Babar Azam's side is to win all three of their remaining matches, starting with Netherlands on Sunday, then South Africa on Thursday, 3 November and finally against Bangladesh on Sunday, 6 November.
It is out of Pakistan's hands, however. If any two of India, Zimbabwe or South Africa win two of their remaining three matches then they will finish with more than six points – the maximum that Pakistan can reach. Net RR could yet be a factor, so a big margin of victory in at least one of the remaining games wouldn't hurt either.
India's next game against the Proteas on Saturday is going to be a massive game in the context of the tournament. India could all but seal qualification when the world's second-ranked side meet the team in third place in those rankings. Both teams will still be confident of qualifying, but a loss for South Africa would leave them particularly vulnerable given they dropped points in the rain against Zimbabwe. Mathematically it makes sense for Pakistan to want a South African defeat in this game – an uncomfortable position for the supporters to be in.
The upcoming game between Pakistan and South Africa in Sydney could be enormous for both sides. It's a huge clash between two of the top sides with a lot at stake as far qualification for semis is concerned.