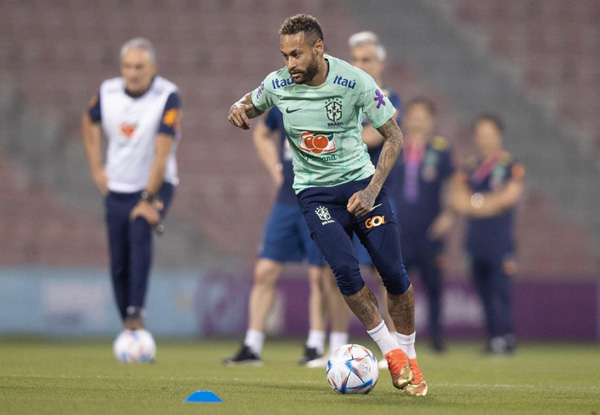 Xtra Time Web Desk: In what comes as a huge relief in the Brazilian camp, Neymar Jr has returned to training with the squad ahead of pre-quarter final clash against South Korea at Stadium 974 on Monday. It had been feared Neymar might miss the remainder of the tournament in Qatar after damaging ligaments in his right ankle during Brazil's opening game against Serbia.

But the 30-year-old has appeared to give the five-time champions a major boost ahead of Monday's match at Stadium 974.
"I feel good, I knew that I would now," Neymar said in a post on Twitter.
Neymar missed the group league games against Switzerland and Cameroon, owing to the injury he suffered. The Paris Saint Germain star turned to NASA technology to provide him with intensive physiotherapy.
He shared a post on social media where he was seen getting treated with a compression boot. The equipment uses NASA technology and serves to accelerate healing. The boot combines three different massage techniques and activates blood circulation.
It also stimulates venous return, reduces swelling, relieves pain, reduces muscle fatigue, eliminates accumulated lactic acid, cramps and improves soft tissue and bone healing.
With Neymar returning to training, it is a huge boost for the Selecao camp ahead of the pre-quarter final clash against the Koreans. It goes to be seen whether Coach Tite hands him a place in the starting line-up on Monday.