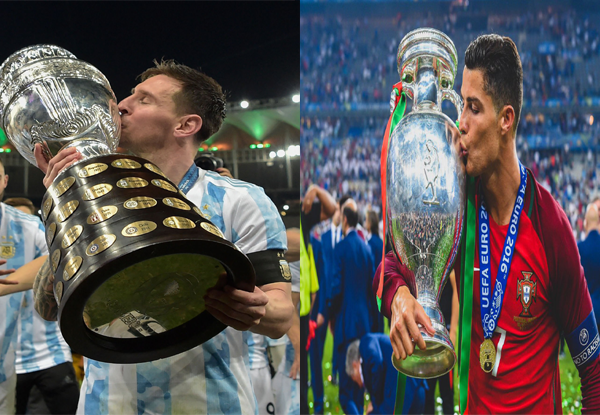 Xtra Time Web Desk: Recently, the whole football world was astonished by the interview of Cristiano Ronaldo given to the journalist Pierre Morgan. Cristiano has been in news after making controversial comments about his football club Manchester United's former and current coach, former teammates and the current owner of United. Despite being surrounded by controversies before the start of the World Cup, Ronaldo has said some things that will make football fans emotive.
Recently, a video went viral where Ronaldo highly praised Lionel Messi, his competitor of the last 16 years on the football field. He honoured Messi as his teammate. Ronaldo said of Messi, "Great player, he is magic, he is at the top. We shared the same stage for 16 years, just think 16 years. So, Messi's relationship with me is miraculous. He may not be a friend to hang out with at home but we are pretty much teammates. I admire Messi for the way he always talks about me. Even his wife and my girlfriend, always respect each other and they are both Argentinian. What can I say about Messi? A great man who does great things for football." Ronaldo also said, "Messi is probably the finest player I've ever seen, apart from me. And of course Zidane too."
This amiable relationship between these two legendary players is giving a positive vibe to football fans all around the world. Probably this upcoming FIFA World Cup is going to be the last World Cup for these two legendary players. These two players have several records to their names. These two players are still competing with each other for the world's best footballer's Crown but the comments by Ronaldo proved the competition is restricted within the ground. Outside the ground, they are a good companion to each other.