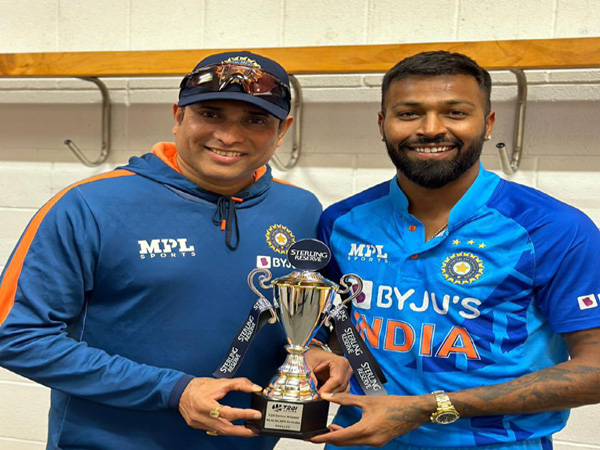 Xtra Time Web Desk: Team India's stand-in captain Hardik Pandya on Tuesday clarified why the team management were not in a position to field players like Sanju Samson. Shubman Gill and Umran Malik in the T20I series against BlackCaps.
"It was a short series, and I don't believe in chopping and changing much, and I won't in the future either. So, it was simple, and had to do with what the team needed," said Hardik in the post-match press conference in Napier.

He added, "There's a lot of time, everyone will get a chance, and when they do, they will get an extended run. But it's difficult since this was a short series. If it had been a long series, more players would have got a chance."
Talking about his philosophy as captain and how he would like to handle situations when an individual is not picked in the playing XI, Hardik said, "It's simple for me – I have the same sort of equation with all the players, and when I can't pick a player, he knows it's not personal. It's got to do with the situation. I am a peoples' person. So if anyone needs me, I will be there for them. Everyone knows that if they feel anything at all, my doors are always open for them to come and have a chat with me, because I understand how they are feeling."
Hardik specifically took the name of Sanju Samson as the batter from Kerala has been one of the most unfortunate cricketers as far getting opportunities are concerned in recent times.
"If they are sitting out… Sanju Samson, for example: we wanted to play him, but for whatever reason, we couldn't. But I can get into their shoes and understand how they are feeling. As a cricketer, it is difficult, whatever one might say. You are in the Indian team, but you are not getting a chance in the XI, so that's difficult. At the end of the day, I can say whatever I want, but those will just be words. It will still be difficult for them to deal with," said Hardik.
Meanwhile, rain once again played spoilsport as the 3rd T20 ended up in a tie on DLS method. India was 75/4 in 9 overs when rain lashed in and the match had to be called off. New Zealand posted 160 with Devon Conway (59) and Glenn Philips (54) both getting half centuries. Arshdeep Singh (4/37) and Mohammed Siraj (4/17) were the most successful bowlers for India.
Siraj was named as the Man of the Match while Suryakumar Yadav was selected as the Man of the Series.