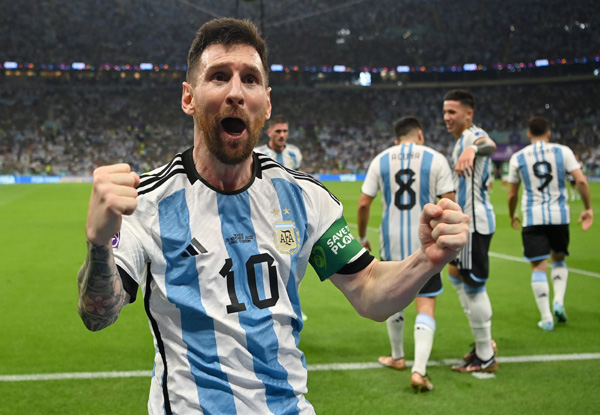 Anilava Chatterjee, Qatar: Argentina manager Lionel Scaloni just finished his post-match press conference after the FIFA World Cup 2022 quarter final clash against the Netherlands at the Lusail Iconic Stadium. The journalists have started packing their bags at the press conference room when everyone was informed that Messi was on his way to attend the press conference as well. In moments everyone took their seats. Messi arrives at the press conference without sporting his customary smile. Instead, he seemed to be upset and annoyed. It was unlike Messi to find him in this mood.
His first comment in the press conference was the referee did not have the ability to officiate the match. What, who are we listening to? This reminds us of an individual who used to curse the men with black uniform. Late Diego Maradona simply cannot tolerate the referees until his last day after the 1990 World Cup final was ruined by referee Edgardo Codesal. He (Maradona) had so much hate against the match officials since that day. According to Maradona, Codesal was deputed in the 1990 World Cup final to ruin their dream. Since. Codesal stayed in Mexico, for the 1986 World Cup winner the Latin American country was a 'land of thieves'
But what turned out for the Albiceleste after 32 years at the Lusail stadium was somewhat similar to 1990 World Cup final. According to Messi, "The referee intended to cause harm to them". The seven-time Ballon D' or winner doesn't seem to be bothered with the disciplinary actions (if any) from FIFA. Neither is he concerned about his brand image that has been to stay away from controversy. Messi is so charged up in this current edition of the World Cup that he is not worried about the consequences. He has come out of the shackles of being a good role model.
According to Argentina media, this transformed Lionel Messi is much like of late Diego Maradona which has also been the primary the reason for the team's success which started from the 2019 Copa America.
Actually, the transformation in the Argentina squad started after the lacklustre show in 2018 World Cup in Russia. The fight for a comeback started in the Copa America competition next year in 2019 but Messi and his team lost 0-2 to Brazil in the final. The Argentine captain directly alleged the referee after the final. According to Messi, the match official was hell bent to conspire against them. The refereeing by the Brazilian match official in the qualifying match against Chile lost his (Messi's) cool. Despite Argentina winning the match 1-0, Messi went on to post his frustration and anger on social media where he wrote that the referee had turned up with a particular intention.
It is nothing new for Lionel Messi to drag himself into controversy with match officials. It has happened on several occasions in club football. Once while he was in Barcelona, he started arguing with the referee in the tunnel. There are several other instances as well. But mostly these incidents were during his days with Barcelona.
Lionel Messi never used to sing the national anthem. But the 2018 World Cub debacle saw a sea-change in Messi's attitude. It made him rethink that to do well for his country, he needs to come out of his image.
Firstly, he realized he needs to stay away from the constant comparison with Maradona which has put tremendous pressure on him. Secondly, which is most important was Messi made a conscious effort to behave like the former Argentina legend. It was not just wearing the captain's armband for his country but to be the actual leader of the team, more aggressive and involved both on and off the field. The world of football saw a glimpse of the transformation but that did not produce the desired results but 2021 Copa America win was the result of this change Messi brought about in his attitude towards the national team.

In the biography of Lionel Messi, his mother Celia wrote a story. Celia had a sister Marcela. Celia had three sons – Matias, Rodrigo and Leo. Marcela also had two sons – Maximiliano and Emanuel. This Maximiliano used to play in Paraguyan club Olimpia. Emanuel plied his trade in Spanish club football. Emanuel has been the closest friend for Messi since his childhood days.
During his childhood days Messi and his brothers used to play together on Sundays at their grandmother's place. Celia wrote more often than not Messi used to come home crying as he felt his elder brothers forced him to lose which was not to the liking of young Messi. He (Messi) was always a soft spoken and shy guy as he started growing up. He was drafted into the Barcelona academy. Soon he put on the Argentina jersey as well. But with the passage of time Messi started an invisible battle with Maradona who had already settled in the minds of Argentinians as their God after single handedly leading his country to World Cup glory in Mexico in 1986.
The people in Argentina started comparison between Maradona and Messi. When Messi was very young, his (Messi) mother once met Maradona. She used to be a huge fan of Diego. During her meeting she told Maradona that her son also loves playing football. She hoped one day his son will become a great footballer like him (Maradona). Wish he can play one day under your coaching. It turned into a reality as Messi played for the national team under the coaching of Maradona.
The problem started back in 2007 when Messi scored a world class goal against Getafe. It brought back memories of Maradona's goal against England in 1986 World Cup when he took the ball from the midfield and dribbled his way past one and beat the second English footballer with sheer speed. Maradona dribbled three defenders inside the box and placed the ball past Peter Shilton. Messi too scored a similar goal and he celebrated like Diego Maradona. Former great Argentina footballer Victor Hugo Morales was mesmerized to watch the goal from Messi and heaped huge praise by saying he came from another planet.
A Spanish band penned a song on Messi, a new star was born and with him a new dream. And it was only after a year Argentina lifted the World Cup in 1986. The football fraternity – from Arsene Wenger to Samuel Eto, everyone started praising Lionel Messi by saying Maradona of the future has arrived. An entire nation lived on this dream for last 15 years. To be dragged into comparison with Maradona at the start of his football career only added pressure to Messi.
Messi had to take this pressure of expectation. This time he has a different pressure to handle. There is no Maradona in the stands and so that constant comparison with the legendary footballer is much less on Messi. But at the same time this is an opportunity to take himself to the greater heights as the former Argentine legend.
The Lionel Messi that we have witnessed in Qatar is a lot different. The talisman has transformed his image into an aggressive leader like Maradona, getting more involved with Argentina fans. There was a period in Messi's career when even the Argentinian's felt Messi was more dedicated towards Spain. The constant failure with the national team and to stay within himself started creating a barrier between Messi and Argentina fans. But what the world is witnessing in Qatar is Messi has been hundred percent successful in winning back the loyalty of Argentina supporters as he is much more involved with them.
The Argentina captain can be seen running towards the stands after each match to soak in the celebration with them. He has been even seen dancing with teammates in the after-match celebrations. He is not dared to have a go at the opponent coach. Few years back fans could never have imagined these things with Lionel Messi. The greatest footballer in contemporary era has managed to draw the Argentina fans into the stands. They have been filling the stadiums with their jersey's drums, cut-outs only with witness history being repeated by Messi and his boys.
Will these celebrations continue here in Qatar till the night of December 18, only time will say. Lionel Messi has two hurdles in front of him in order to break out from the shadows of Diego Maradona and being placed in the same position as the former great.