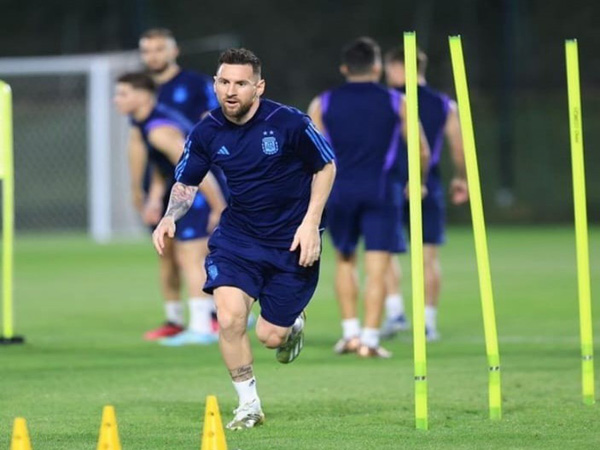 Anilava Chatterjee, Qatar: Argentina will be hoping for another inspiring performance from Lionel Messi as Albiceleste take on Netherlands in the quarter final of the FIFA World Cup 2022 at the Lusail Iconic Stadium on Friday night. Argentina's training session at the Qatar University Ground saw a huge number of media turnout both from Argentina and across the world, just to witness Messi train ahead of the big clash against the Dutch. For the first time in the history of FIFA World Cup, Argentina and Brazil will play their respective quarter final matches on the same day in one city. The media turnout at the Argentina training session was much bigger compared to Brazil's training session at the Al Arabi Sports complex. And understandably so because of one man – Lionel Messi.
The seven-time Ballon D' Or winner was in a jovial mood during the team's training session as he went through the warm up drills. The talisman was seeing applauding every move by his teammates, constantly motivating them during the practice session ahead of the quarter final fixture.
According to Argentine scribe Diego, "Messi was seen in a leadership role, constantly motivating the young generation. His attitude has transformed after winning the Copa America. He is much relaxed and enjoying now. The fact that there will be no Diego Maradona in the stands will not put him under any pressure."
Diego added, "Messi is extremely important for this group. He will be a key player for Argentina against Netherlands. Van Gaal knows it well. He will definitely put marker on Messi."  

Another Argentine star player will be in focus along with Messi. Both Angel Di Maria and Lionel Messi came close to winning the silverware in 2014 edition. Di Maria will make a return to the playing XI for Argentina after missing the pre-quarter fixture against Australia. Maria's left-side runs and constant changing of positions was missed during the Australia game, but Scaloni expects the veteran to be available and help disrupt Holland's plan of using Denzel Dumfries and Daley Blind through the wings.
Dutch manager Luis Van Gaal had a bitter relationship with the former Manchester United star. The Argentine winger had called his former Manchester United boss "the worst coach of my career".
"I am very sorry that Ángel Di María once said that I am the worst coach he has ever had. Here next to me sits Memphis. He was also in Manchester. And now we kiss on the mouth," Van Gaal said in his pre match conference.
Argentina manager was not happy with the news of De Paul Rodrigo missing the closed-door training session on Wednesday. The Atletico Madrid footballer did train on Thursday but Scaloni will decide only after watching him train.
"It's very strange that they say something about Rodrigo de Paul. We will see today in training to decide, I don't know where this information comes from," Scaloni said in his pre match conference.
The last time these two sides faced each other in World Cup was in 2014. The Latin American side ended up winning with Messi having a poor match.
As per the team news is concerned Cristian Romero and Nicolas Otamendi will start for the Albiceleste, which will mean Lisandro Martinez will have to sit on the bench again.
Gonzalo Montiel and Nicolas Tagliafico were tested in the full-back spots during training earlier this week, but Nahuel Molina and Marcos Acuna should begin the match in the backline regardless. Enzo Fernandez is likely to join Rodrigo de Paul once again.
Alexis Mac Allister will likely be given the nod if Scaloni opts for another 4-3-3, alongside  and Lionel Messi.
Predicted line-up for Argentina against Netherlands: Martinez; Molina, Romero, Otamendi, Acuna; Fernandez, De Paul, Mac Allister; Di Maria, Messi, Alvarez