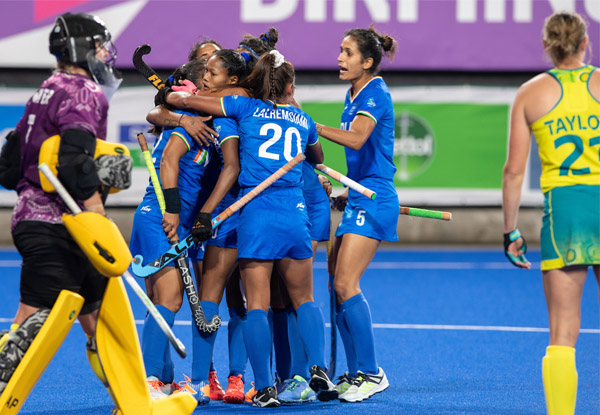 Xtra Time Web Desk: The Indian Women's Team suffered a major heartbreak after Australia edged past India 3-0 in the shootout to snatch a victory in the Semi-Final of the 2022 Birmingham Commonwealth Games. Savita Punia-led Indian Team fought valiantly in the regulation time which ended in 1-1 but missed out on converting their attempts in the shootout. Ambrosia Malone, Amy Lawton and Kaitlin Nobbs scored goals for Australia in the shootout.
Rebecca Greiner (10') scored the solitary goal for Australia while Vandana Katariya (49') was the lone scorer from the Indian side.
The Australian team started the game with a high pace and aggression while the Indians kept their calm as they looked to create opportunities early on. Australia's strategy paid off as Rebecca Greiner scored a tap-in goal in the 10th minute to give them the lead.
Trailing by a goal, India kept pushing for the equalizer but were not successful in the second and third quarters. There was a sense of urgency among Indian players as the fourth quarter started, looking to level the contest. India's efforts were rewarded when Vandana Katariya scored in the 49th minute after being set by Sushila Chanu. Moments later, India had a chance to go one up after Vandana Katariya won a PC, but, it did not transpire into anything. After India's equalizer, both sides increased their attacking in search of their second goal but were not successful as the game went to a shootout.
India will next take on New Zealand in the Bronze Medal match on Sunday, 7 August 2022