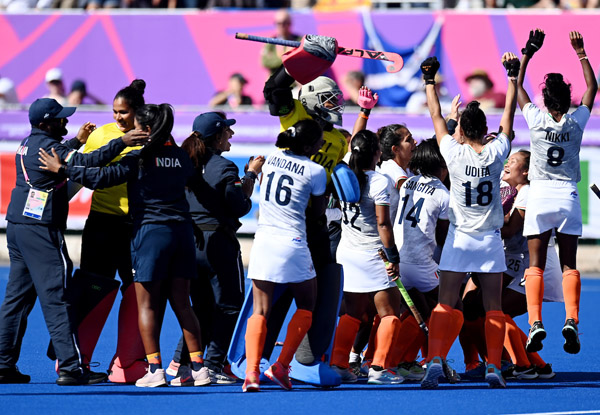 Xtra Time Web Desk: The Indian Women's Hockey Team claimed the Bronze Medal in the Commonwealth Games 2022 with a 1-1 (2-1 SO) superb win over New Zealand in Birmingham. In the regulation time, Salima Tete (29′) scored the winning goal for India, only for Olivia Merry (60′) to score a late goal for New Zealand and push the match to a Shoot-Out. Savita made three sensational saves in the Shoot-Out, while Sonika and Navneet Kaur struck past Kiwi goalkeeper Grace O'Hanlon as India pulled off a thrilling win. With the Bronze medal win, Indian Women's Hockey Team ended their 16-year wait for a medal at the Commonwealth Games.
Salima Tete gave India the lead in second quarter as she found the back of the nets with a reverse hit as India entered halftime with a 1-0 lead. Olivia Merry scored from a penalty stroke in the final seconds of the regulation time to push the match to a Shoot-Out.
Megan Hull scored from New Zealand's first attempt in the Shoot-Out, while Sangita Kumari missed India's first attempt. Savita pulled off a great save as she denied Ralph Hope. Sonika levelled the score line at the Shoot-out as she struck past Grace O'Hanlon. Rose Tynan struck the side netting, but Navneet Kaur struck past Grace as India took a 2-1 lead in the Shoot-Out. With Katie Doar and Olivia Shannon missing for the Kiwis, India went on to the win the match in thrilling fashion to claim the Bronze medal.