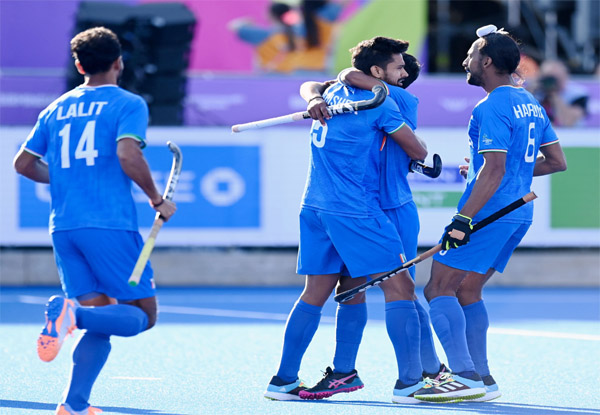 Xtra Time Web Desk: Indian Men's Hockey Team reached the Final of the Commonwealth Games 2022 with a 3-2 win over South Africa in the Semi-Final match in Birmingham on Saturday. Abhishek (20′), Mandeep Singh (28′), and Jugraj Singh (58′) scored the goals for India. Ryan Julius (33′) and Mustapha Cassiem (59′) scored the goals for South Africa. With the win, India secured a spot in the Final and will compete for the Gold Medal on Monday.
Abhishek gave India the lead with a stunning reverse hit into the nets from the edge of the circle. Minutes later, Akashdeep Singh received a penetrating pass in the circle from Vivek Sagar Prasad. But his shot on target was once again saved by Gowan Jones. A late counter-attack led to Mandeep Singh hitting the ball into the nets past the South African goalkeeper as India entered halftime with a 2-0 lead.
In the second half Ryan Julius put South Africa on the board as he scored from a rebound off a Penalty Corner to reduce the gap to 1-2.
A late Penalty Corner saw Jugraj Singh scoring another goal for India, but Mustapha Cassiem added a goal for South Africa as well with a minute left on the clock. India managed to keep their composure in the final seconds and picked up the win 3-2 to reach the Final.