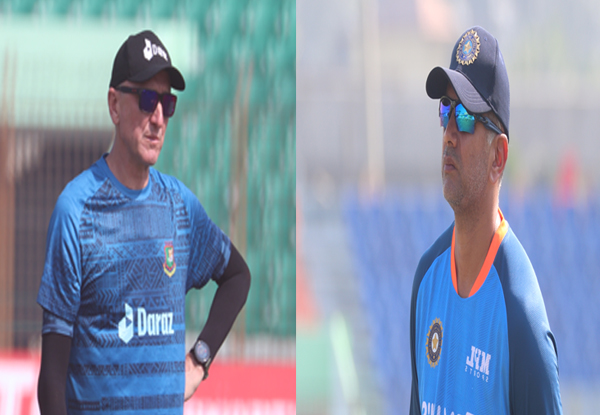 Xtra Time Web Desk: Former South Africa pacer and currently the fast-bowling coach of Bangladesh has said 'sorry' to former India captain Rahul Dravid for an old incident. Both Dravid and Donald are now in Chittagong for the ongoing first test match between India and Bangladesh. Dravid, who is now the Head Coach of the Indian team was sledged by the Proteas fat bowler during an ODI at Kingsmead stadium in Durban in 1997. 25 years since that incident, Donald on record has apologised for the incident to Dravid and has invited him for a dinner.
Donald, in an interview with the official broadcasters said he had overstepped the line while sledging Dravid during that ODI in Durban.
"There was one ugly incident in Durban that I don't wanna talk about. He (Rahul Dravid) and Sachin were smoking us to all parts. I overstepped the mark a little bit. I've just nothing but massive respect for Rahul. I would like to go out and sit with Rahul and say sorry to him again about what happened that day. I just had to do something silly that brought his wicket actually. But I still apologize for what I said that day. What a guy, what a great bloke. So Rahul, if you are listening. I would love to have a night out with you," Donald said.

Dravid on being shown Donald's message by the host broadcasters responded it with a laugh saying he would absolutely look forward to it especially if he (Donald) is paying for the dinner.
The incident dates back to an ODI between India and South Africa during a Tri nation series also involving Zimbabwe in 1997. Chasing 279 runs to win, Dravid played a blinder, scoring 84 off 94 balls. He smashed all the Proteas bowlers – the likes of Shaun Pollock, Donald and Rudi Bryson to all parts of the ground.
It was then that Donald sledged Dravid. It was never revealed what exactly the 'white lighting' said to Dravid but the latter was left fuming.
25 years after that incident Donald has apologized to Dravid publicly.