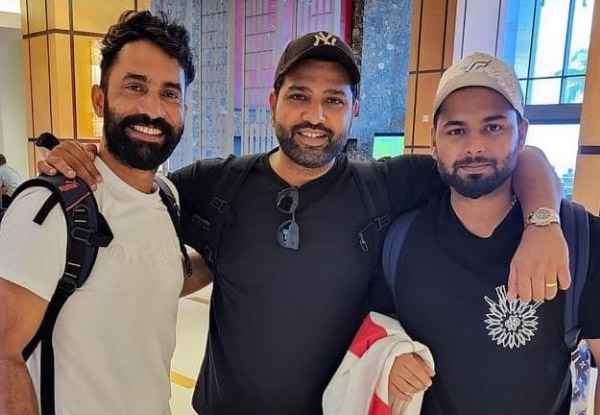 Xtra Time Web Desk: Team India captain Rohit Sharma along with other T20 squad members reached Port of Spain on Tuesday morning ahead of the T20I series. Rohit Sharma, Dinesh Karthik and Rishabh Pant travelled from London while Ravichandran Ashwin, Bhuvneshwar Kumar, Kuldeep Yadav and Harshal Patel reached Port of Spain in Trinidad from Mumbai via Dubai.
Ravichandran Ashwin, Ravi Bishnoi and Harshal Patel came back to India after the England series. As for captain Rohit Sharma and Rishabh Pant, they set sail from the UK, arriving in Trinidad on Monday alongside Dinesh Karthik. Bhuvneshwar Kumar too returned back to India after the conclusion of T20I series against England.
On Monday, Rishabh Pant shared on his social media that the Indian wicket-keeper alongside captain Rohit Sharma and Dinesh Karthik had arrived in Trinidad. The trio will take part in the five-match T20 series with the first two games in Trinidad. The action then moves to Warner Park, Basseterre, St Kitts. The final two games will be played in Lauderhill, Florida.